June 1, 1998 was the first official business day for Metaltech, but to get to the beginning we have to really go back to 1980. To understand a company, it is important to understand the leadership, for a company is typically the product of its leadership.
From the Beginning

In 1980 I graduated from Lebanon High School. My girlfriend, Dana England, which is now my wife, was a year older than me; she had just completed her first year of college. Dana and I met in a functional math class my junior year, her senior year. I was always good at math thanks to my dad for always quizzing me on the farm with word problems. If that cow weighs 1100 lbs. and we sell her for $.35 per lb., how many dollars will we be selling her for? Dad taught me to break it down into the smallest form and then put it back together to solve the problem (1000 lbs X .35 = $350, then 100 lb. x 0.35 = $35, then $350 + $35 = $385 sale price).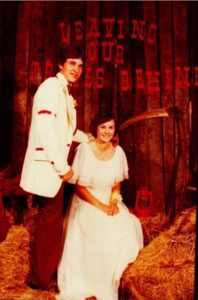 I believe this is still the best problem solving process today. Take big problems and break them down or separate them into smaller projects or processes, now you have small problems to solve. My dad is a hero to me. Both my dad and mom taught me what I believe to be the most valuable characteristics a person needs to be successful in owning and operating your own business – honesty, work ethic, and dependability.
Well back to the math class: Dana and I found out we were both in the functional math class because we were looking for a simple class to fill our schedules and thought a functional math class would be easy and beneficial. Little did we know we were developing a relationship that would last a lifetime; so far it has been thirty-five wonderful years together. The best way to describe our relationship would be "best friends."
As I am writing this article, it is a Saturday morning and I am sitting in our motor home, at Sterett Creek Campground on Lake Truman near Warsaw Missouri, looking out through the rain-streaked windshield. Dana is cooking breakfast and we are eagerly awaiting the rain to stop so we can go crappie fishing. Last night we caught a real nice mess of crappies in about an hour, but they didn't start biting until right at dark. It was 10:13 P.M. when we got the fish cleaned and back to our motor home. We had a blast! The only negative of the evening was that Dana didn't bring any Oreo cookies to go with the glass of milk I had for a bedtime snack. In all, we have been blessed. Most of our married lives we have worked together. We both love the outdoors; we like to hike, fish, ride horses, and just be out in nature.
When I graduated from high school in 1980, I was planning to go to college at Missouri State University (MSU). I was enrolled, had my books, and was ready to start. About one week before classes were to start, I decided I didn't want to go to school. I was going to have to work while I went to school, and my parents were not going to be able to help me, so I decided I didn't want to be tired, hungry, and broke for the next four years.
I moved to Texas and worked as a longshoreman loading ships making $10.41 an hour with lots of overtime. This was big money in 1980. Besides, I grew up on a dairy farm with hard working parents, so I was not afraid of hard work. As a matter of fact, I took pride in hard work and I enjoyed it. I did this for a few months, and then Dana and her parents came down to Texas to visit me and that was all it took for me to remember how much I missed her. A week later, I loaded up my things and came back to Missouri.
Dana and I were married in April 1983, and we have two sons: Blake (left; born in 1986) and Brice (right; born in 1989).
Both of our sons are married and both have one child. We enjoy that both of our sons work with us in our business. Dana and I have come a long way and we are really enjoying having grandchildren as well.
It's Not What You Know, but Who You Know
The famous phrase: "It's not what you know, but who you know" is how things work, or at least how they did in 1980. One cold day in December, I was building a fence for my dad and mom along Highway E where their farm is located in Eldridge, Missouri when a Mid-Am Dairy field-man by the name of John Evans drove by and saw me. John stopped and asked what I was doing for work. I informed him I was working for my parents, but wanted to get another job, maybe in town. John stated he thought he could get me a job at Marathon Electric, a new factory just starting up in Lebanon. I did not fill out an application there because I had heard that they had over 3,000 applications (and they were just starting to hire a few people). I had never considered working in a factory; I always thought I would be doing something in agriculture.
John asked if I knew the mayor of Lebanon, and I told him that I did not. John told me to put on my Sunday clothes, go to city hall, find Mayor Kenneth Cowan, shake his hand, tell him who I was, and tell him John Evans had sent me. John then told me to use him and the Mayor as a reference on the application for Marathon Electric. At eighteen years old, I was afraid to do this, but I was also desperate and tired of working for my parents. My dad always made sure he got his money's worth when you worked for him.
That very day, I did exactly as John had instructed me. I went to city hall, found Mayor Cowan, and introduced myself. Mayor Cowan said, "If John Evans recommends you and told you to come and meet me, you can use me as a reference. John is a good man."
Time is of the essence. How often in your life have you looked back and thought I knew I should have done that or I was going to but just didn't get to it? If you think it, do it! Don't procrastinate; when you procrastinate you are giving up that little edge that might be the difference between success and failure."
I filled out an application and a month later on January 18, 1981, I went to work at Marathon Electric putting motors in a box at the end of an assembly line. I was the thirty-third person hired. I worked for Marathon for sixteen and one-half years. I spent eight years in the Quality Department working up to a Quality Engineer, going to night school for classes in Statistics, Accounting, and Business. I spent the remaining eight and one-half years working in the Manufacturing Department. When I left Marathon, they had about four-hundred employees, and I was responsible for about half of all the manufacturing operations and people in the plant.
I owe a great deal of THANKS to Marathon for the education they paid for and sent me to. I owe a great deal of thanks to two particular people that mentored me: Stu Bucker, Plant Manager, and Dennis Mousel, Engineering Manager. These two individuals were my heroes because they made an investment in me; it was not for their own gain, they did it for me. They were two true leaders with different styles of leadership and both were successful. I believe they enjoyed seeing me grow. I have always been (and still am) eager to learn.
You can't create material success without knowledge."
There were several others that taught me as well, but the aforementioned two people seemed to take a special interest and devoted specific time for me.
A Recipe for Success
In 1997, I was approached by Electrovert to join their company. Electrovert was an equipment manufacturing company that primarily designed and built capital equipment for the manufacturing of circuit boards. Today they are known as Speedline Technologies. They are a very well-run company, the leaders in their industry. I spent thirteen months with this company and most of this time I led an outsourcing team focused on outsourcing metal fabrication and machining.
During this project, the majority of my time was spent trying to find suppliers that were honest and would do what they said they would do. Electrovert had a particular product (i.e. large machine frames) that were very hard to find a supplier for. The suppliers we found could not meet the quality requirements and/or they were too far away to ship large frames cost-effectively.
This was when I saw the need to start Metaltech, not just the opportunity."
I was responsible for outsourcing this product and I was not going to fail!
One day, there was a very tense and direct meeting on the assembly floor about what top management wanted – to find a supplier that would get acceptable frames delivered on time, and at a reasonable price. I was the one responsible for making it happen.
I think this was when the light bulb went off in my head, and I had a reason to move forward with my dreams of owning my own company and being a Plant Manager. At this point, I had a potential customer right out of the gate, and I could fulfill their need by giving them something they could not get. Remember, I was the one trying to find what they wanted, fulfill our needs, and it was not out there. I had the knowledge to build these frames because we were doing it at Electrovert, so I knew it was possible. I had the experience of managing a large manufacturing workforce, including eight years of Quality experience, and I had a potential customer with a need that was not being met. This appeared to me to be a recipe for success.
Learning Starts with Your Attitude
Looking back, all of these things helped me prepare for running my own company. I had some really bad bosses over the years, but I have to admit I learned something from every one of them, the good and the bad.
Learning starts with your attitude. If you think you know everything, what can you ever learn? Not much. A person reaches a new level of maturity when they realize and accept this fact. Learning is continuous."
For Christmas 1997, Dana and I bought a home computer to keep our financial records on (at least Dana thought that was why we were buying it). We really bought it so I could write a professional business plan to take to the bank and borrow money to start a metal fabrication company.
Metaltech Opens for Business
In February 1998, I presented my completed business plan to Dana. She was shocked, scared, and I think impressed. She said, "Okay." The bank also said okay. We borrowed $76,000 dollars, built a 4,000 sq. ft. building, and bought a hydraulic ironworker, band saw, MIG welder, TIG welder, drill press, and some hand tools. We then found the person known around the community as the best metal fabricator in our area, Tony Evans. We hired Tony from another company and we started Metaltech June 1, 1998. Immediately, I gave my notice and started making frames for Electrovert. Speedline Electrovert is still a customer today.
When we started Metaltech, it was Tony, Dana, and I. We soon added more employees. In February 1999, Tony was killed in a motorcycle accident. This was a severe psychological blow for Dana and I, because we had grown very close to Tony. Tony and I were the same age and we had children about the same age. Dana and I depended on Tony's expertise, but most of all he had became like a brother to me. We worked lots of long hours during the start-up of Metaltech, almost all night and day on some occasions. We got to know his family very well. I was the one that had to tell his children he was not coming home and what had happened. It was the hardest thing I have ever had to do in my life. Today as I write this, those thoughts and memories still makes me get choked-up and teary-eyed for those children and his wife. Tony was also my hero; he taught me how to MIG and TIG weld, how to use a torch properly, how to do some shop math, the differences in metals and their characteristics, and so much more. I need to stop crying so lets move on.
Heroes Help Other People Become Heroes
Shortly after we started Metaltech, a wise businessman by the name of Carl stopped by to see how I was doing. Carl was another excellent mentor, but he really only gave me advice on that one visit. Carl told me, "Be careful and be prepared to pay your taxes; don't get behind on them and make sure you have a good CPA." He also told me to always be looking for that next number one customer. Carl told me several other things about running my own business, but these two things really stayed with me, and if he hadn't gave me this advice it would have been much more difficult for me.
Taxes: When you start a business, there are always things you need and you can justify them because you can get more sales or improve your margins. At the end of the year, if you are not paying estimated taxes (and you probably won't be your first year), you will get your taxes done and the CPA will tell you how much you owe. At that point you may think, "I don't have that much money, that can't be right," but it is and you owe it, and if you haven't planned for it you will be hurting.
Number one customers: Number one customers are like the weather in Missouri. Changes occur, and sometimes rapidly. Every company you deal with will make strategic decisions over the years (e.g. they go out of business, they change ownership, they change buyers, leaders, or sometimes you just outgrow them). You always need to be searching for and developing your next number one customer, with diversity in mind.
Big thanks! to another hero of mine, Carl.
Lessons in Diversification
In December 2000, a friend that had a sheet metal fabrication company five miles from us approached me to buy his business, Ozark Sheetmetal. So we worked out the details, and in January 2001 Dana and I took over the assets and customers from this company. They had about seventeen employees and we were up to about twelve employees at Metaltech. This was a good move, at least for the previous owners. Just kidding!
This same year, the tech bubble burst and things slowed down; 9/11 happened and we were all scared and uncertain what was going to happen next. For Metaltech, everything came to a screeching halt. By Thanksgiving when we had our company lunch, there were seventeen of us still employed at Metaltech, down from twenty-nine in January. At this point, we did a lot of praying, rolled up our sleeves, and went after anything we could get to generate sales; we tried to stay positive. This taught me a few very important lessons, like the importance of "diversification." You need to charge what the market allows because there will be times (like the years 2001 and 2002) that the market won't allow much (if any) margin. You will have tough times if you haven't prepared for the tough times during the good times. Also during this time (end of 2000 and first part of 2001), we were building onto Metaltech. By June 2001, we had 22,000 sq. ft. and we moved the sheet metal company in with Metaltech.
In 2003, we purchased the property where Ozark Sheetmetal was located and we started Powder Paint, Inc. Powder Paint is still operating today in that same location, 16050 Highway 5 North, Lebanon, MO.
In 2005, we bought our first robotic welding cell. This was a new technology to us but it has proven to be an excellent investment.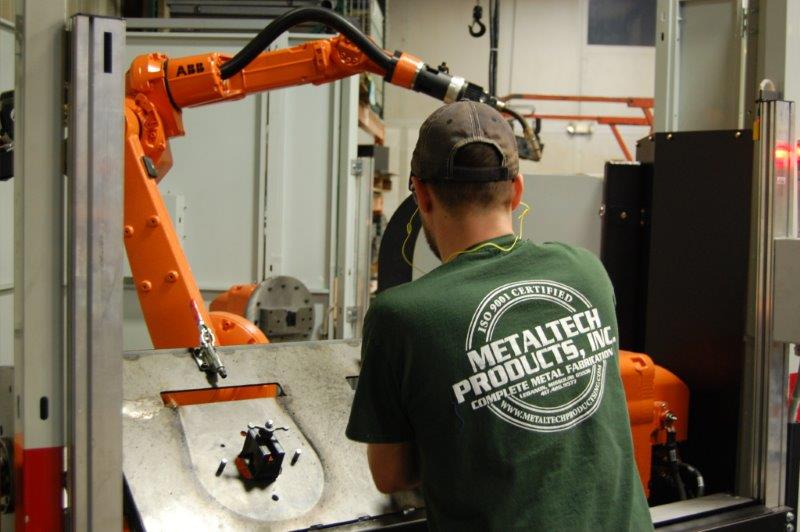 We now have two robotic welding cells, both cells have two tables each so it is like having four robotic welding cells. I don't know how any company today that does repeat products welding can be competitive and meet customers' expectations for quality and consistency without them. I explain it like this: When you go to a fine restaurant, you probably order the same thing practically every time. You do this because you know it is good, and you know it will be just like it was last time you ordered it. You expect it to be the same. Well, our customers can count on our robotic welded products to look just like they did on their previous order. Our customers also know we have proven our weld processes, have good quality, and that they can count on our welds to have good penetration.
In 2008 (Metaltech's tenth-year anniversary), we added-on to our facility with a 38,000 sq. ft. building, giving Metaltech a total of 60,000 sq. ft. of manufacturing and office space. We also bought our first laser-cutting machine, a Trumpf 2030.Over the years, we have replaced all the sheet metal fabrication equipment originally purchased from Ozark Sheetmetal with new equipment.
At Metaltech, we believe that in order to stay competitive in manufacturing and give customers the quality of product they expect, it is necessary to have the latest technology, the best processes, and the best people.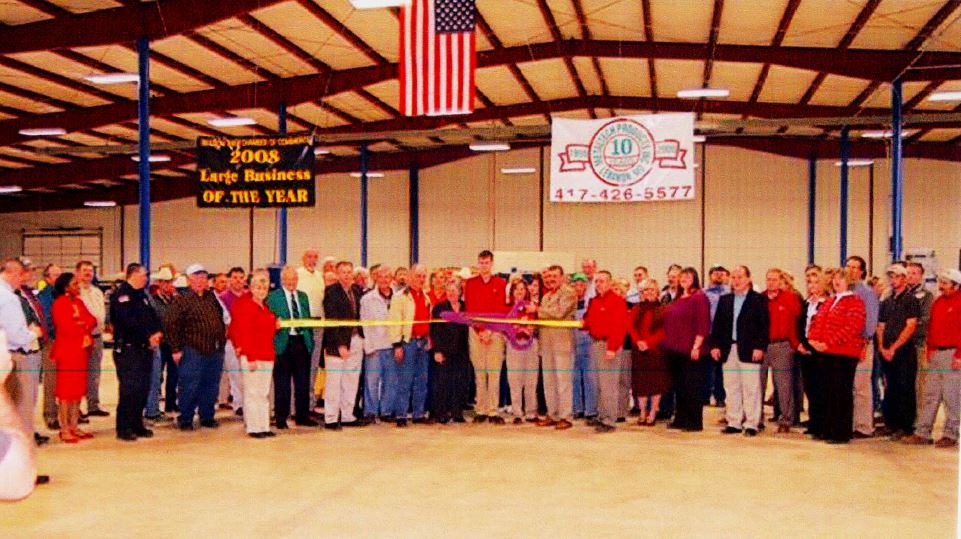 We Say What We Do and We Do What We Say
In the fall of 2009, we obtained ISO certification. The reason for certification was as Metaltech grew, it became more and more difficult to manage our processes relative to quality, production, consistency and sustainability. We would put things in place to solve problems, hire new people, and pretty soon we were back implementing the same things we had already done a year or two before. I saw ISO as a documentation system that would tell us how to do things correctly and monitor our successes and failures, and then we could adjust our documented processes for improvement.
I have never regretted getting ISO certified, as it continues to pay for itself year after year. What I mean by this, is that our Quality Management System is documented – we say what we do and we do what we say. If you remember back to the beginning of this article, this was an important character to me when we started Metaltech. With ISO, it forces you to collect data and fix problems. Once in a while we will have a customer ask us if we could reduce our price by lowering our own internal quality expectations. In the past year, I have had two customers tell me it would be okay if we had a reject once in a while if it could help lower our prices. The problem with this is that we have an excellent quality workforce. How do you tell your workforce to back off on quality and get more production, when our quality management system is documented and they are following the documentation? We are going to stick with our excellent quality system. I don't want to be expediting product to replace bad parts. ISO is well worth what it costs and it is a key part of our success.
In 2011, we added 8,000 square feet of office space primarily to grow our engineering, design assistance and development capabilities.
In February 2015, we purchased an additional 113,000 sq. ft. facility in Lebanon. Some of the new facility will be leased out and the remainder will be used for growth opportunities for Metaltech and Powder Paint.

We Are Honored to Do What We Do
Metaltech has been in business for 17 years. Without the dedicated hard work performed over the years from some of the best people around, in addition to the experience and education I obtained (i.e. working for other companies, going to school nights, attending seminars, etc.), I don't believe Metaltech could have lasted as long as it has. Some of these years have been difficult, but I continue to learn and greatly enjoy what I do. I have been truly blessed to be able to make a good living working at what I enjoy doing.
My intent for writing this article was to give you a history on Metaltech Products, Inc. and a background of the owners, Dana and I. I also hope this was somewhat entertaining and educational, perhaps informative for others that are considering starting a business or maybe running a business. If you have any questions, we are always around and love to talk shop.